Campus tours and visits are a critical piece of the enrollment management process. In 2018, Midwestern State University conducted a large-scale study that revealed students who visit campus are twice as likely to to matriculate. Ideally, Colleges and Universities are able to host thousands of prospects on their campuses to increase the chances of a successful recruiting strategy. The problem is, there are a lot of cases where it is not possible for prospective students and their families to schedule an in person campus tour.
Let's face the facts—students have a lot of options when it comes to choosing a school, and the travel associated with in-person visits can be time consuming and expensive. Even for families with higher means, there will be a prioritization of schools that best match their decision criteria. Accessibility and mobility challenges can also factor into opportunities to engage portions of your target audience.
With these limitations at play, how can colleges and universities find ways to persuade students to attend their school? We believe a virtual campus tour is the next best alternative to a campus visit.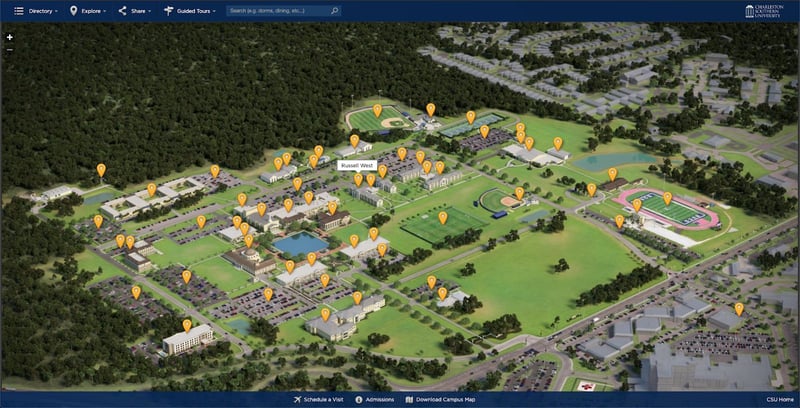 Your prospective students have a very big decision to make that involves financial aid and scholarships, academics, and campus life. These are complicated topics and how they are answered directly impacts your yield rate. A campus tour answers so many of these questions by serving as an example of life at your university. Let's explore how a virtual campus tour can substitute for an in person tour and address the needs of your incoming class.
Addressing Affordability
Affordability is a high priority issue for students and their families. Many institutions use campus tours to schedule an appointment to clarify financial concerns. With an interactive virtual tour you could direct participants to the correct resources and people to get questions answered. Call-to-actions that allow students to call, email, instant message, or schedule an appointment can help increase your school's position on their priority list.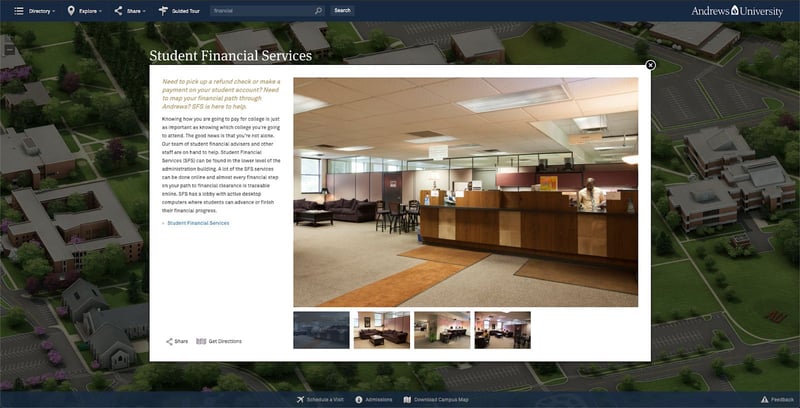 Faculty Play a Major Role
During conventional campus tours inspiring and engaging faculty members are often called upon to give a taste of what it is like to be a student of a particular department or major. Students care about who they learn from and you can use virtual tours to create a connection with a faculty member that may inspire their college and postgraduate career. By curating photographs and videos of your learning environment, or scheduling video conference appointments with charismatic faculty members, a virtual tour may persuade a student to take steps to deeply explore your school.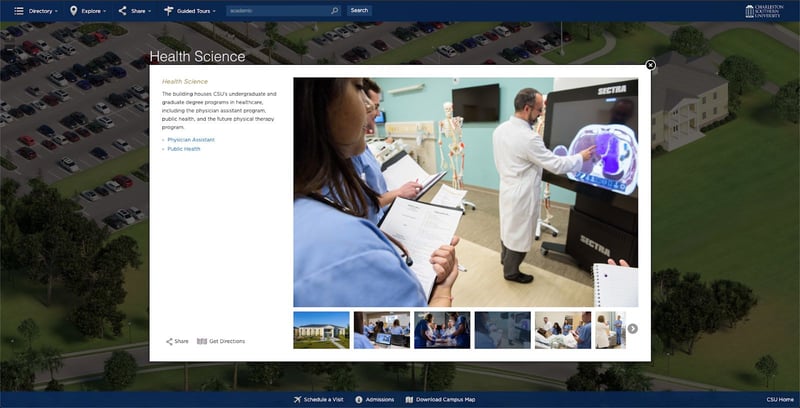 Welcome Them To Their New Home
According to our study, more than 73% of prospective students rated the importance of selecting housing options online as at 8 out of 10. It goes without saying that understanding where students will rest, establish life-long friendships, and study, is an important stop on a campus tour. With a combination of immersive technology and mobile device functionality your virtual tour can help students imagine what it would be like to live on your campus. And by linking social media posts to 360-tours and videos you can allow students to imagine their future home away from home.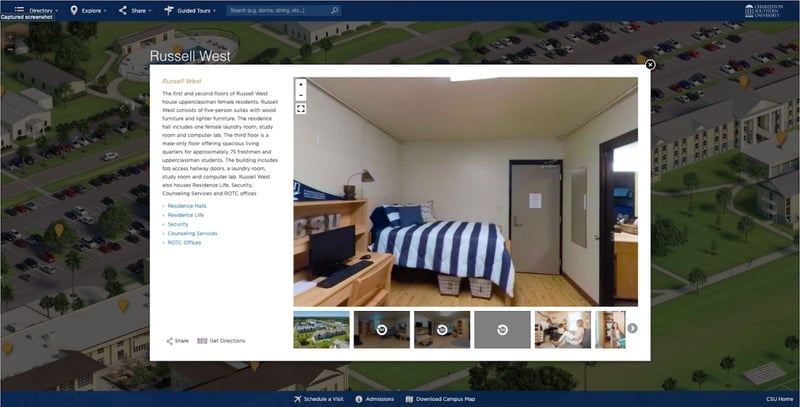 Show Student Life
Spaces that evoke tradition, belonging, and school pride are impactful points along any campus tour. You can virtualize this experience by using real images to immerse prospects in the culture of their potential alma mater. Place an emphasis on authentic imagery as students react adversely to highly posed or stock images. Leverage all of the great video content your campus generates from speaking engagements, sporting events, and club organized gatherings as 60% of highschool seniors students reported that video content makes virtual tours more appealing. A virtual tour can be a vehicle to remotely deliver a highly interactive and authentic brand experience for your university.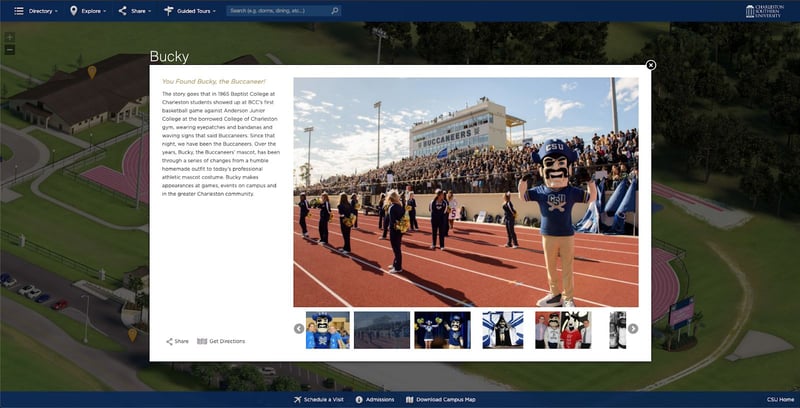 A Real World Example
Each recruiting year has its own set of surprises that challenge families when it comes to visiting the schools that matter to prospective students. Our client, Oklahoma Baptist University has used CampusView to pivot their strategy to emphasize a virtual campus tour that will engage their incoming class despite the public health concerns and economic downturn during the COVID-19 2020 crisis.
Prospective students are invited to take a virtual tour with an admission counselor and a video on the admission webpage features an encouraging video from the admissions office followed by call-to-actions where prospects can begin an interactive campus tour or schedule a future visit.
What's Next?
A virtual tour is an essential tool to have in your enrollment utility belt. The new normal for student experience is going to shift towards online classes, digital learning material, and virtual forms of recruiting that were predominantly delivered in person. It will be critical for institutions to continue to put students first and leverage technology to remain flexible in the everchanging enrollment management climate.
Research & Design works with colleges & universities to design and engineer highly engaging websites and digital experiences. Contact us for a demonstration of our immersive campus tour solution, CampusView.