Colleges and universities have closed or shifted to e-learning in reaction to the coronavirus (COVID-19) pandemic, leaving a lot of room for uncertainty in the coming months. More than ever, students are going to need reliable sources of information during this tumultuous time. We recommend utilizing a global notification system across your site, creating a page specific for emergency preparedness, and leveraging direct marketing channels to keep all parties informed.
Notification System:
Columbia University has a notification system that addresses its many audiences and includes links to pages with the latest announcements and safety updates that will be helpful to their community. Because users enter and exit your website through various pages, it's important that a notification system is included on—and designed to standout on—multiple pages. Whatever the use case is, the objective is to keep all users updated on the critical event that is impacting your campus.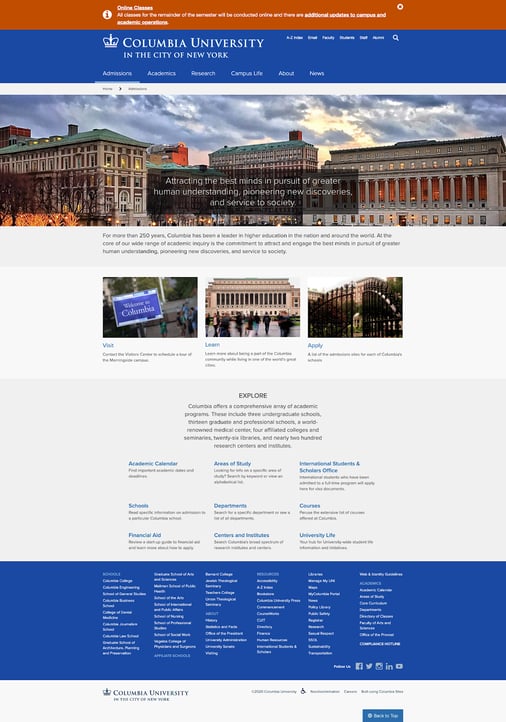 Website notifications are not a substitute for a full emergency system. However, web pages and subpages inform the local community, clarify why it may be difficult to contact faculty or staff, and provide an opportunity for follow up messaging beyond initial notice of an emergency.
Emergency Preparedness:
Universities and colleges diligently create strategies to keep students and employees safe. A good way to ensure safety during an emergency is to make sure policies and procedures are always accessible and presented during student orientation and employee onboarding. We recommend making this page easy to find with an intuitive URL. For example, emergency.example.edu or example.edu/emergency. This is also an appropriate location to allow users to sign up for notifications.
New York University covers safety topics ranging from severe weather to suspicious activity. Also, relevant links to safety apps, the Public Safety Office, and feedback tools are made readily available to users. In response to the pandemic, the university has created a specific site that triages students, faculty, and employees to relevant sites based on their needs. This page also serves as a central location for news and updates related to COVID-19.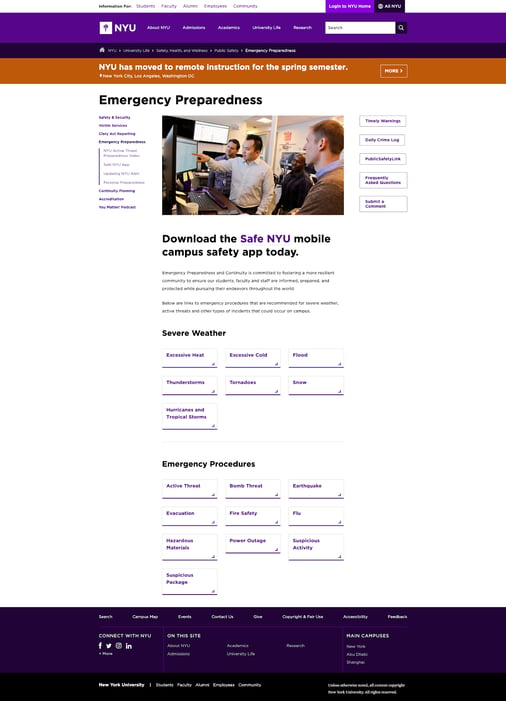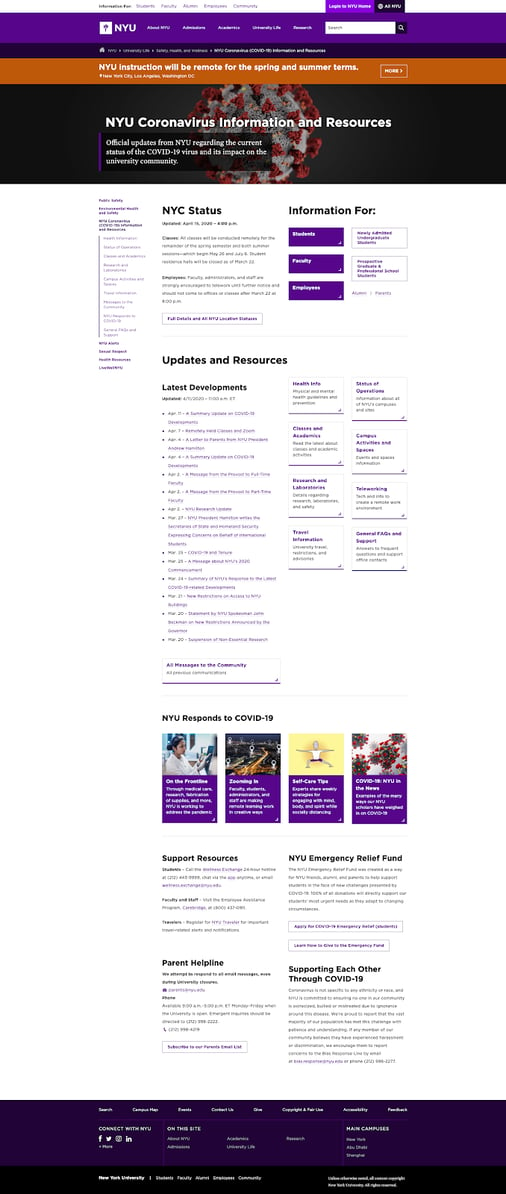 Proactive Messaging:
In an extended crisis it is a worthwhile investment to create crisis management pages focused on keeping everyone up-to-date. However, building the page is not enough. Be sure to use direct marketing channels to grab the attention of your constituents. The email below utilizes both text and video to inform Wolverines of how to remain safe during these unpredictable times.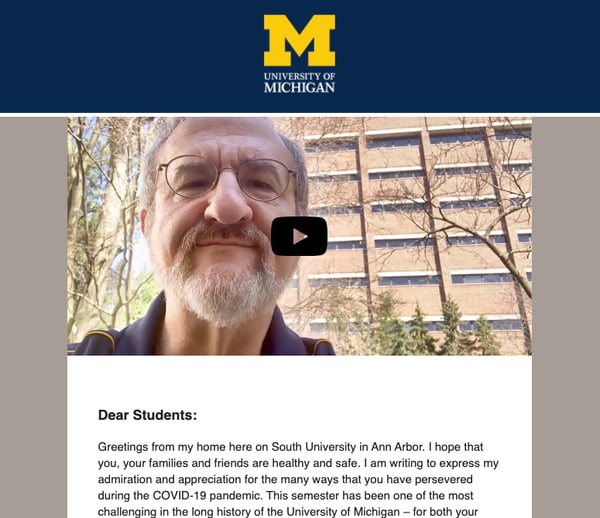 Students are interested in regular updates that impact their day-to-day during a crisis. The university has gone beyond banner notifications by utilizing social media to point their community towards useful information. In this Twitter post, the president became the subject of a meme when students spotted him recording a message to the university. Dr. Schlissel used that platform to express his concern and care for his students. These activities allow for conversations that keep people connected during difficult times.
There is no single solution to address the challenge of communicating during campus emergencies. It is the combination of a design system that accounts for emergency notifications, the clear presentation of your emergency preparedness policy, and active messaging that will keep your stakeholders knowledgeable of how to proceed during a crisis.
Research & Design works with colleges & universities to design and engineer memorable experiences. Contact us to strategize about ways you can better serve your students.