As colleges and universities are serving more and more online students, full or partial online graduation ceremonies are becoming more commonplace. What does an ideal online graduation experience look like? This question is especially relevant now as many campuses are struggling to deal with working remotely, delivering classes over the internet, and preparing for a graduating class that will miss out on one of academia's most time-honored traditions. Let's explore a possible solution together.
What Matters Most
There are some obvious activities and traditions that can't possibly be replicated online. Things like walking the stage, shaking hands with the president, and going out to dinner with your family are hallmarks of a traditional graduation that we can promptly cross off our features list.
So where does that leave us? Think back to your own graduation for a moment.
You definitely remember sitting through some speeches. How many? You can't recall, but it felt like a lot. You also probably don't remember what was said in those speeches, or maybe even who gave them. Maybe you wish you could revisit them now.
What you do remember is being with your friends — the excited and anxious chatter, the hugs and high-fives. Or the last embraces and conversations with proud professors who appeared more excited for you than you were for yourself.
And then there are other traditions that distinguish the day from most others. Putting on your cap and gown, sweating profusely. Flipping your tassel, tossing the cap. And of course the endless drone of camera shutters clicking away.
And let's not forget the "transactions" that make the day what it is — the conferring of awards and diplomas.
Establishing a Baseline: The Passive Experience
Now that we've established what a traditional graduation typically entails, let's think about what an online version needs to have in order to be functionally complete.
The presentation of diplomas and awards
The speeches
Our online experience would probably feel complete with just these two ingredients. And it could be achieved fairly easily via a series of live video feeds of each keynote speaker giving their address, followed by the presentation of each student's diploma and any relevant awards, which would then be mailed to their recipients. There would be no need for any account creation or login, just a url and an internet connection.
Given current circumstances and time limitations, this might be what a lot of schools end up implementing. And it makes sense — it's fairly analogous to the traditional commencement ceremonies that have been disrupted. But it's also one-dimensional and runs a real risk of being boring.
Building on the Baseline: The Interactive Experience
Interaction and connection are the pieces most noticeably absent from our baseline experience. Let's add them in.
The ability to chat with friends and classmates would improve the experience many times over. A simple text option would be good. Audio and video options would be even better. Whatever the medium, chats should be able to accommodate multiple participants.
Beyond one-on-one and group chats, additional interactivity between participants could include likes, high-fives, hugs, etc. These quick connections could be particularly nice if a participant's profile indicates when they have received their degree.
While these interactions with friends and classmates will likely fall short of truly replacing the in-person experience, one real benefit an online graduation may offer is the ability to interact with other ceremony attendees.
Guest speakers would not have the same time limitations imposed by travel and other preparations. With that regained time, perhaps a Q&A session with a guest could be held. Or, instead of a single guest, maybe there could be a series of guests giving advice to the outgoing class. Additionally, with the decrease in travel and logistical effort, higher profile guests might be more likely to accept an invitation to speak, boosting the overall quality of the ceremony.
The same goes for faculty and administration. With no limitations on attendance numbers, more professors and staff could "pop in" to the ceremony to congratulate their students, offer parting words of wisdom, and arrange plans for keeping in touch.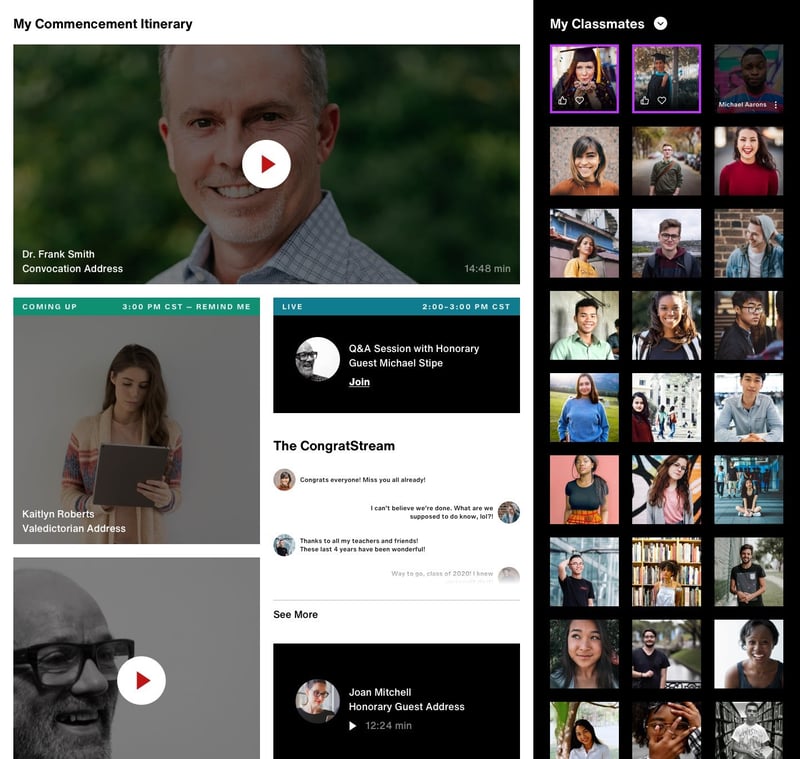 Out of Time: The Extended Experience
Let's continue to push further from an analogous interpretation of a traditional commencement toward something that capitalizes on the benefits of what an online experience can provide. Namely, time.
In-person graduation ceremonies are long, contiguous events. The seats are often comfort-deficient, and spotty audio quality and other distractions can make it challenging to follow along. And whether your guest speaker is riveting or droning, the audience is captive — and sweaty!
Taking the ceremony online allows for breaking up the proceedings into smaller pieces that can be consumed at one's own leisure. Each portion of the ceremony can — and should — still be broadcast live, as it is in our baseline experience. But as soon as a speech has been completed, a recording of it can be made available for anyone who may have missed it, or who wants to go back and listen again.
Got a hunch that this next speech is going to be a real snoozer? Skip it. Your friends watch it and tell you it was amazing? Go back and watch it later. Beyond being selective about what to watch and what to skip, this approach would have real benefits to students in other time zones, particularly international students.
And with a little planning ahead, the entire experience of receiving your diploma and shaking the president's hand could be achieved ahead of time. Caps, gowns and diplomas could be mailed to graduates before the event. In the days leading up to the ceremony, one-on-one video calls between the president and each recipient could be recorded. A copy of the diploma could be held up by the president, then conferred to the graduate with congratulations. A photo of the moment could be captured from the video, and both uploaded to the commencement platform.
Then, on commencement day, these brief videos could be aired in the order which the diplomas would have been presented in-person. Alternatively, they could be sequenced in smaller groups, perhaps based on department. This would allow for briefer, more focused portions of the ceremony to be experienced by relevant participants. Or, only interested in seeing a few close friends receive their diplomas? Skip the live stream and simply replay your friends receiving their degrees.
So, What Next?
Given the constraints of our current reality, most schools will be scrambling to cobble together whatever kind of graduation experience they can. And that's totally fine. For those with a little more time and resources, or for those schools that are largely — or exclusively — online, hopefully this exercise will spark some inspiration. Not just for getting through this trying time, but for what the future of commencement ceremonies could look like.
Research & Design works with colleges & universities to design and engineer memorable experiences. Contact us to strategize about ways you can better serve your students.